By Randy Dotinga – Dermatology Times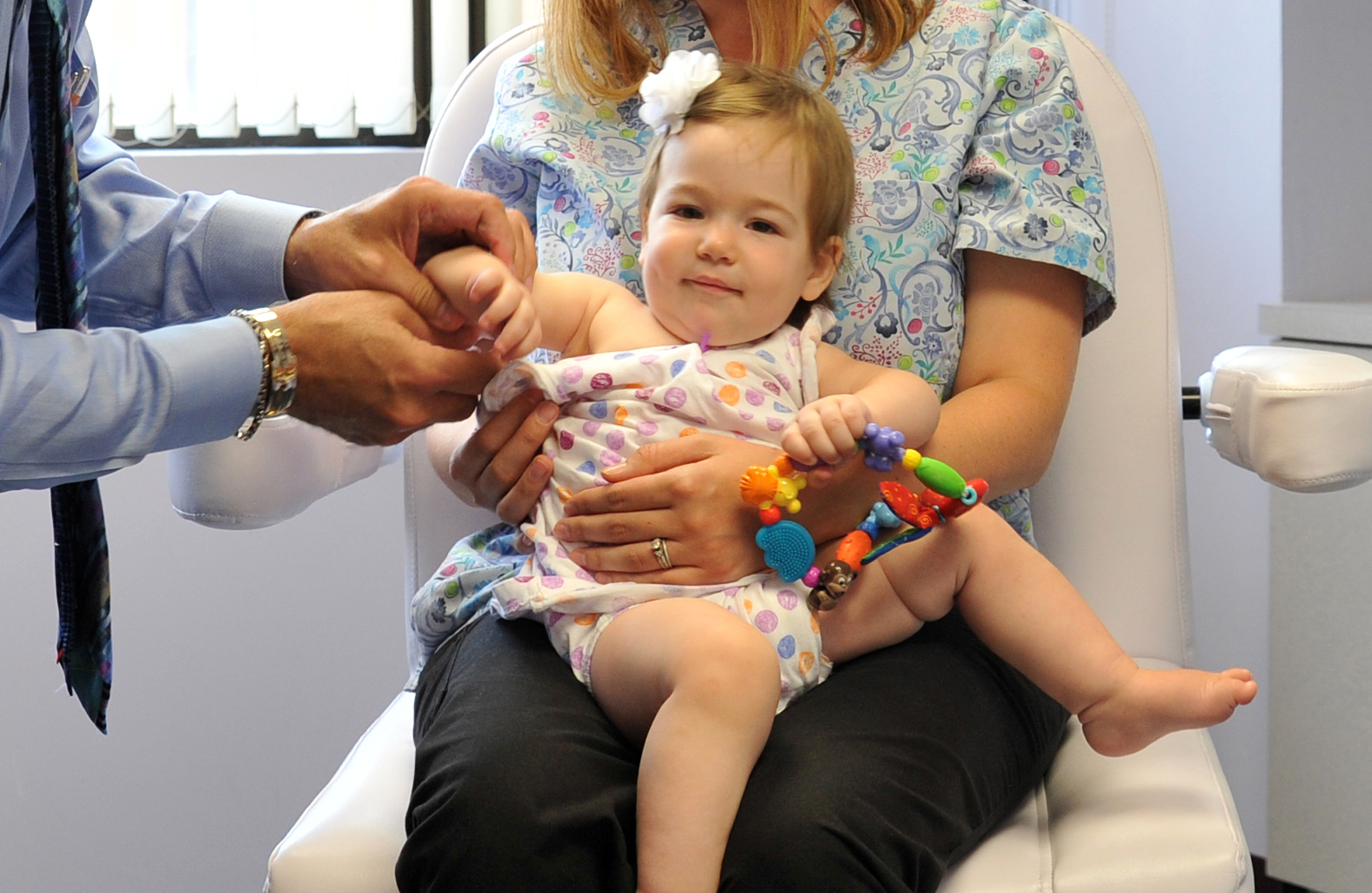 Uniquely tailored strategies improve diagnosis and treatment
Beware of the rare, ask questions of the littlest patients, and make sure to treat children as individuals with unique needs. These are the messages from dermatologists who spoke to colleagues about the special challenges of treating skin conditions in children, especially those who are far from their teen years.
"Most dermatologists are very cautious with kids and probably not as familiar with treating them," says Leslie Castelo-Soccio, M.D., Ph.D., an assistant professor of pediatrics and dermatology at The Children's Hospital of Philadelphia, who spoke during a session about children and skin disease at the 73rd annual meeting of the American Academy of Dermatology (San Francisco, 2015).
For example, phototherapy is often a beneficial treatment for kids with conditions like eczema, psoriasis and vitiligo. It's typically used for inflammatory conditions when patients have failed topical and systemic therapy, Dr. Castelo-Soccio says. But many dermatologists won't try the treatment on children under 18 even if they have the equipment, she says, despite studies that suggest early treatment is crucial for vitiligo in particular.
In fact, "children tolerate it beautifully," she says. "We've treated kids as young as 16 months up to teenagers and early adults."
She cautions dermatologists to consider the ages of children undergoing the treatment. Older children over 4 or 5 years old can handle going into the closet-like space of a light box on their own for a matter of seconds or minutes, she says.
But younger children won't tolerate being alone in a light box, so Dr. Castelo-Soccio will open the device and let the light emanate into the room. A parent stays with the child but is covered for protection from the light.
"You partner with parents to get the child through the treatment, and you learn strategies of distraction like talking, singing and visualization that you don't need with adults," she says.
Important cautions
"You want to be very careful with the energy and the amount of the time that a patient is in the light box," she says. Side effects include pink skin and burning. Cold sores, which are especially common in the summer, can be activated by light, she says.
An increased risk of skin cancer is also a concern. While the light rays in phototherapy are different from sun rays, they are potentially damaging and do pose an unknown long-term risk.
"We think it's safe," she says, "but there are no long-term studies for kids who have had therapy when they're 40, 50, 60 years old."
Insurance typically covers the treatments, which are often time-consuming and repetitive. According to Dr. Castelo-Soccio, two to three treatments a week may be required for four to five months.
"Distance and interference with school or other activities is one reason compliance isn't great," she says. "If you carefully select the patients and parents, that's not as much of an issue. You tell them what we're expecting, and that this is the time commitment," she says.
The good news, she says, is that re-pigmentation is possible for vitiligo, and eczema and psoriasis may improve or go into remission.
"Not every patient responds. We'd stop the therapy if we're not seeing any response after 40 treatments. But overall we've been very pleased with the response in the children we're treating," she says.
Drug reactions
Jim Treat, M.D., an associate professor of pediatrics and dermatology and fellowship director of pediatric dermatology at Children's Hospital of Philadelphia, told the audience at the American Academy of Dermatology about the challenges of treating life-threatening cutaneous drug reactions and infections. These conditions are rare, he says.
Many patients get rashes from medications, he says, but it's especially dangerous when they develop with fever.
"If you don't suspect a systemic reaction, it can brew for a while and hurt the patient," Dr. Treat says.
Indeed, dermatologists may miss the wider picture when they don't ask rash patients about other symptoms, and the patients don't bring it up.
"It's not up to the patient to know what to tell you," he says. "You need to ask, and the most important question is: Is there a fever? Systemic drug reactions almost always come with a fever, and it can be a sign of systemic inflammation from the drug rash."
A wide variety of drugs can lead to skin-related reactions. Antibiotics can cause acute generalized exanthematous pustulosis (AGEP). Sulfa medications, antibiotics (including minocycline), HIV medications, anticonvulsants and others can cause DRESS (drug reaction with eosinophilia and systemic symptoms), which is also known as drug hypersensitivity syndrome (DHS) and drug-induced hypersensitivity syndrome (DIHS).
Minocycline causes severe drug reactions so Dr. Treat doesn't use it as a first-line acne treatment ("that's certainly controversial," he says). When he does prescribe it, he tells patients to stop using the drug to let him know immediately if they have a fever or rash within the first couple months of treatment.
When diagnosing children, Dr. Treat says it's important to ask them how they feel instead of just relying on their parents because Mom and Dad may not know a child has a fever or is feeling ill, especially teenagers. It's also crucial to check labs if you suspect a systemic reaction, he says.
According to him, patients should be considered for hospital admission if they suffer from serious complications like abnormal vital signs or labs, high fever, hypotension and tachycardia.
However, if caught early, dermatologists may be able to handle DRESS or AGEP without a hospital admission. Stevens Johnson Syndrome, a rare reaction, always requires admission due to the need for multispecialty care and wound care, he says. Dr. Treat adds that standard care for DRESS includes withdrawal of the drug in question and treatment with systemic steroids for a few weeks if not a couple months.
Vascular anomalies require multidisciplinary care
Erin Mathes, M.D., an assistant clinical professor of dermatology and pediatrics at the University of California at San Francisco, spoke about treatment of vascular malformations and tumors in children.
"For complex vascular tumors and malformations, the most important overarching message is to refer these patients to centers with multi-disciplinary teams that have experience with them," she says. "At UCSF's Birthmark & Vascular Anomalies Center, we work with neurologists, dermatologist surgeons, plastic surgeons, general surgeons, hematologists, otolaryngologists and radiologists to manage these patients."
Fortunately, many other parts of the country are also home to vascular anomaly clinics, she says. If there is no nearby vascular anomalies center, patients can travel to a regional center, or dermatologists can reach out to other specialists in their area to figure out who has the most experience with vascular anomalies. Diagnostic imaging and tissue biopsy can help make the diagnosis.
The prognosis for these patients will vary, she says. Smaller vascular tumors and malformations may simply require surgical excision, but some cases can be much more serious, requiring multiple procedures and systemic medication.
"It depends on the specific site that's affected and how severely affected it is and what other co-morbidities the patient has," she says.
As for the future, "there are a lot of new medicines coming down the pipeline for these conditions," she says. "We're discovering more about the genetic causes, and we can apply targeted therapies that already exist and develop new targeted therapies. That's particularly exciting and another reason to seek treatment in a center that has experience."