May 08, 2015
By Bill Gillette –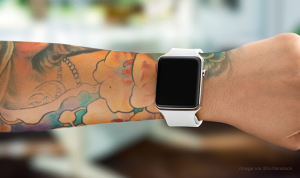 Dermatology Times
Parents trying to convince their teenager not to get a tattoo might try this: Give the teen an Apple Watch and pass along the following news.
According to a CNN report, some Apple Watch wearers say their wrist tattoos prevent the device's heart-rate sensor from functioning properly. And since the Apple Watch uses the wearer's heart rate to determine whether the device is being worn, a wearer who has wrist tattoos might not be able to place calls, receive notifications or use certain apps.
Tattooed Apple Watch wearers have complained about the issue on social media, and Apple blog iMore confirmed that the problem does indeed exist.
According to CNN, the way in which the Apple Watch senses the wearer's heartbeat causes the problem. Apple says the back of the device flashes green and infrared light at the wearer's skin, and the light is absorbed or reflected by the blood. When the heart pumps more blood to the wrist area, the device senses it, and it also senses the diminished amount of blood between beats. The Apple Watch calculates the wearer's heart rate by sensing the timing between heartbeats.
Solid-colored tattoos—red ones especially—also absorb the green light and reflect the red light. Black tattoos, which absorb both green and red light, can also interfere with the Apple Watch's heart-rate sensor. Dark-colored skin, scars and skin abrasions, which are translucent, don't interfere with the device's heart-rate sensor. Tattoo ink is opaque, however, and prevents light from penetrating the skin.
CNN reports that users have found that turning off the Apple Watch's wrist detection function allows notifications to come in, but it also prevents the wearer from using the Apple Pay function and receiving calls.
Read more about how to remove unwanted tattoos here